As a Beginner
you can progress at your own rate with private instruction.
An experienced pottery instructor will spend one on one time with you,
teaching you how to throw on the potter's wheel and other clay work skills.
After completion of the beginner instruction, you can use a monthly membership program to work in the studio at your convenience with an experienced potter on hand. It's a flat rate studio fee.

If you are experienced, you have a
fully equipped studio waiting for you.

Beginner instruction - a basic introduction in potter's wheel and hand building techniques.
Six weeks - 2 hrs per week - one on one with an experienced potter.
Take a session once, twice or three times a week.

Studio time - If you are an experienced potter, come and join our pottery community. Use the studio for a small monthly fee. We work with cone 5 / 6 glazes and excellent throwing and slab building clay bodies. We are sure you will enjoy developing your existing skills and learning new techniques along the way.
Click this Classes Link for details.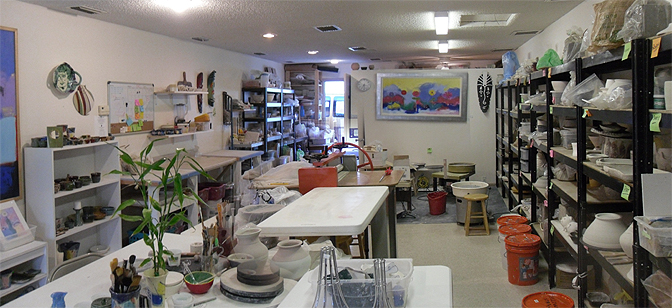 Hours
Instruction & studio time available 10am to 8pm Tues., Thurs. - Sat.
Call 904 829-2758 or E-mail studiopots@aol.com

Payment
Credit Cards, Cash, Check, Paypal
You can pay in advance with the
BuyNow button below.
If you are Paying in advance please e-mail us or call so we can verify your payment and time.