As a Beginner
you progress at your own rate with private instruction -
2 hours per week for five weeks.
An experienced pottery instructor will spend one on one time with you,
teaching you how to throw on the potter's wheel and other clay work skills.
After completion of the beginner instruction, you can participate in Studio Time. You are in the studio 2 hours per week working on your own projects and still recieve instruction but there are others working in the studio at the same time who the instructor also helps. It's a flat rate studio fee plus clay and firing charges.

If you are experienced, you have a
fully equipped studio waiting for you.

Beginner instruction - a basic introduction in potter's wheel and hand building techniques.
Five 2 hr. sessions - one on one with an experienced potter.
Studio time - Work on your own projects - 2 hours per week - hobby potters only - the studio is not set up to handle production level pottery from any one potter.
Click this Classes Link for details.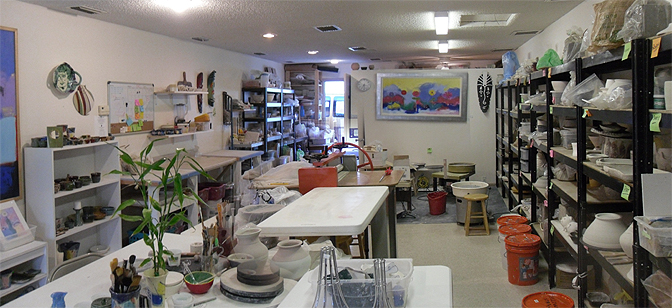 1333 Old Dixie Highway. St. Augustine. Unit 10
Hours
Instruction & studio time available 10am to 8pm Tues., Thurs. - Sat.
Call 904 829-2758 or E-mail studiopots@aol.com

Payment
Credit Cards, Cash, Check, Paypal
You can pay in advance with the
BuyNow button below.
If you are Paying in advance please e-mail us or call so we can verify your payment and time.